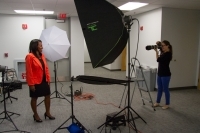 The NCPMI Board Members are happy to give a free headshot session to 10 lucky members! Please register for your chance to win by Friday 02/09/18. Once registration is closed, a raffle will be held, to draw 10 winners from those who have registered. The winners will be notified by 02/12/18.
We wouldn't be able to do this without the partnership of our sponsor photographer, Lindsay Aikman, lindsayaikmanphoto.com. Lindsay is offering us a fantastic discount in order to allow us to offer this to our members. We know our members will be able to utilize headshots in a variety of ways, such as job searching or LinkedIn.
Please DO NOT REGISTER for this opportunity unless you can arrive at the chapter meeting at no later than 5:15. We will have a tight window to get all ten complete by the time our meeting starts at 6:30.