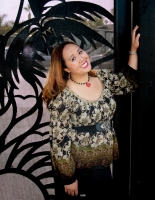 Amy Lanci is the Founder, Principal Trainer, and Consultant at Untold Story Enterprises.
Amy Lanci is a communication consultant, storyteller, and dot connector. After wrapping up a 14-year career in sea turtle genetics, she moved on to fully embrace her gifts by giving birth to her company, Untold Story Enterprises. She has since spoken about storytelling and communication in workshops, podcasts, summits, and international conferences. Her story is featured in the first edition of Goddesses Among Us.
Amy is both creative and scientifically trained and brings all of that to the table whenever she needs to strategize and think outside of the box. As a speaker and group facilitator, she has presented and opened her heart to people on both coasts of the continental U.S. and has loved every minute of it. She has an ebook to her credit: Build Your Entrepreneurial Family
In this hour-long talk, she will be explaining to us how to use the power of stories and the written word to create real change.
The emphasis will be on honing the stories w.r.t the overall marketing message by combining creativity, critical thinking, and intuition.
The talk aims to bring all of our firepowers to the table with creativity and critical thinking in order to have the right mix of big picture vision and detail-oriented strategy and messaging.
In her presentation, "Waiting To Be Heard", Amy will share with us the key to getting your voice heard by your colleagues and your audience in your marketing strategy.
Main Takeaways with lots of lateral learnings would be:
1. Get a better understanding of getting your voice heard, the role language plays in life, marketing, and communication
2. Strategies to establish effective online and offline communication when speaking to different communities
She will share her story of growing up as a speech-delayed kid to becoming a communication consultant who helps business owners to find the right words to speak their audiences' language in their marketing and outreach efforts.