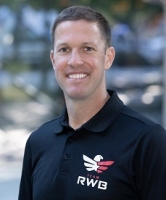 This is an In-Person Event ONLY

Non-Members $25, Members $10, Volunteers $0.   No refunds will be provided for No Show / Cancellations.

50% of your registration fees will be donated to Mike Erwin's charity Team RWB
Abstract:
In the Information Age, the world is noisier and moves faster than ever. With all the distractions, it's critical that we lead ourselves first to insure that we are the best we can be for everyone we lead and love. This talk will unpack the power of solitude and reflection, with a focus on how to isolate our minds from the relentless flow of digital world inputs. It will also emphasize the importance of making good decisions, especially on how we manage our time and energy. Lastly, this talk will inspire people to prioritize solitude as a vehicle for self-care and to help us optimize our lives.
After this session, attendees will be able to:
Incoprporate solitude and reflection as a tool to imporvie our leadership capabilities
Connect the dots between decision makeing and leadership