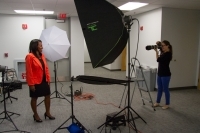 We have done it twice this year and with such success and demand for it, we will host the opportunity for you to get your headshots taken at the October Chapter Meeting. We will be working with the wonderful Lindsay Aikman, lindsayaikmanphoto.com again to provide 10 lucky winners with headshots! We know our members will be able to utilize headshots in a variety of ways, such as job searching or LinkedIn.
We will have registration for the headshots open through 10/13/17. Once registration is closed, a raffle will be held, to draw 10 winners from those who have registered. The winners will be notified by 10/16/17.
Please DO NOT REGISTER for this opportunity unless you can arrive at the chapter meeting at no later than 5:15. We will have a tight window to get all ten complete by the time our meeting starts at 6:30.