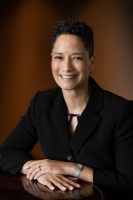 About the Speaker:

Wendy Gates Corbett, CPLP is an escaped global training executive on a professional mission to rid the world of bad presentations. In 2013, she took a huge leap to start her own company. She works with professional athletes, speakers and leaders helping them craft and deliver engaging, memorable presentations with confidence.
She's on a personal mission, too. It's simple, really: she wants every single person she interacts with to know that they belong here (wherever 'here' is) exactly as they are right now. Her commitment to this mission stems from her own life experience. Wendy spent over 30 years quietly, but terribly desperate for YOU to tell her she belonged, that she was accepted all because of an experience she had when she was five years old.
She is recognized as a leader in ATD (the Association for Talent Development. Think 'the PMI for corporate training) and in the talent development field who speaks around the world on the power of visuals, remaining relevant, and the power of belonging. She is in her 10th year serving on her local ATD chapter board (Research Triangle Area, NC), she recently served on the International Board of Directors for ATD. Wendy is a charter member of the Presentation Guild, and a member of the National Speakers Association. She is the owner of Refresher Training, LLC, a company that works with professional athletes, speakers and leaders helping them speak with impact and influence.
Abstract:
Work cultures that don't truly include all employees create environments where time is wasted, employees are disengaged, and they don't care about their work. Organizations with inclusive cultures reap the benefits of employees who are fully engaged, care about their work, and love what they do. Belonging is a natural need, but it can become crippling and toxic. At work, not being ourselves can severely limit our career paths and our professional growth. Outside of work, when we're not our own true selves, we deprive ourselves and others of true connection. In this program, talent development leader Wendy Gates Corbett shares practical strategies we can use to remind ourselves, each other, and the team members we work with that we all belong. These simple strategies can be employed at work and outside the office to empower ourselves and others in leading in ways that connect, respect, and protect.
In this experiential program, you will learn how to:
Connect: with yourself and with others in ways that foster true connection
Respect: yourself and others in ways that demonstrate that they (and you) are valued and respected
Protect: yourself and others by fostering work cultures that protect workers' (and your own) humanity