Leadership CoP: Ignite Transformational Leadership through Social Capital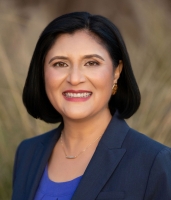 About the Session:
Understanding social capital leadership in relation to organizational and people goals creates a fertile ground for transformational leadership. Personal and corporate networks, along with social trust, facilitate mutually beneficial collaboration. The quality of social relationships influences individual and team behavior and productivity, leading to transformation and economic growth. This session will explore how to leverage essential elements of the social capital of leadership to build trust and get positive outcomes
Learning Outcomes
Learn why internal and external networking is crucial to transformational leadership.
Learn how to develop a circle of trusted collaborators who have your back.
Learn practical strategies for leveraging social capital approaches in project management approaches
About the Speaker:
Divya Parekh is an international Executive Leadership Coach and #1 bestselling author. Having success in four primary career paths, Divya has the expertise and knowledge of real-world business backed by a proven record of success. Divya brings over 20 years of rich and extensive experience in academia, the biopharmaceutical, business, and coaching industries. In each of her many roles, she has empowered leaders with breakthrough insights, talent development strategies, and measurable business outcomes.
Divya has guided many seasoned executives, leaders, and management personnel into realizing their goals by creating a cohesive plan to reach their next level of accomplishment. She believes the key factor in leadership success is the partnerships we cultivate. She helps individuals and teams to learn the exponential power in developing a thorough understanding of their business partners to build resonant relationships and a foundation of mutual trust and safety.
Divya is also the author of numerous leadership and entrepreneurial books. Her books include Stress Management, Mindfulness Mastery, Critical Thinking, Candid Critique, Appreciative Inquiry, Leadership and Influence, Emotional Intelligence, and The Entrepreneur's Garden.
Event Details
| | |
| --- | --- |
| Event Date | 10-08-2020 6:00 pm |
| Event End Date | 10-08-2020 7:00 pm |
| Registration Start Date | 07-01-2020 |
| Registered | 33 |
| Cut off date | 10-07-2020 11:00 pm |
| Individual Price | Free |
| No. of Leadership PDUs | 1 |
| Location | Virtual Meeting – Conferencing details will be distributed prior to the meeting |