Leadership CoP: Capitalizing on Strengths in a World of Fixing Weaknesses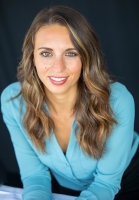 Speaker Bio:
Lauren is a highly extroverted, personable and driven professional with passions in building and maintaining relationships, identifying qualified talent, and executive coaching. Lauren serves the Human Capital Solutions team as a liaison between senior business development personnel and High Value Targets, as well as supports the Executive and Career Coaches. In this role, Lauren defines the level of opportunity, finds and verifies key decision makers, sources and identifies qualified candidates, and keeps HCS's social and digital media platforms updated and engaging. This role provides HCS with the confidence and clarity necessary in approaching next steps to become a trusted, loyal partner with each prospective client.

Lauren began her career as a business owner in Raleigh, NC. Upon completion of a coveted certification from Gallup, Inc., she launched Lauren McGhee Coaching and provided Gallup-certified StrengthsFinder coaching for her individual executive and corporate clients. Through individual coaching, team development sessions, company-wide retreats and public workshops, Lauren positioned herself as the Strengths and talent expert for the Raleigh community. With her deep seated passion for public speaking, Lauren delivered numerous keynotes, seminars, and short talks on various stages. Her speaking experience ranges from local networking groups to large, international conferences. She still finds herself on stage as often as she can.
Session Abstract:
Discover the power of capitalizing on individual strengths as opposed to encouraging well-rounded thinking and living. The key to developing yourself and those around you is to invest in natural, top talents.
Objectives: Each attendee will walk away with a deep desire to uncover their own greatest talents, unveil the talents of those around them, and develop themselves as leaders through intentional investment of their greatest strengths. For years, the expectation of well-rounded employees and leaders has become the determining factor of what makes an individual successful. The goal of this presentation is to defy this misguided thinking by displaying psychology-based evidence focused on the exponential success of people who have consistently leveraged their greatest talents. Using research from Gallup and discoveries through the world renown Clifton Strengths, the methods of mastering success will be redefined.
Event Details
| | |
| --- | --- |
| Event Date | 04-11-2019 5:30 pm |
| Event End Date | 04-11-2019 7:00 pm |
| Registration Start Date | 03-15-2019 3:00 am |
| Registered | 26 |
| Available place | 34 |
| Cut off date | 04-10-2019 6:00 pm |
| Individual Price | Free |
| Location | Cisco Campus - Building 7 - Maggie |