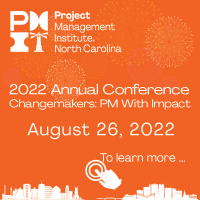 As the landscape for project managers has changed, our chapter is using the annual conference as a spring-board to enhance our members with skills to change their communities and organizations. Join us on Friday, August 26 to hear illuminating perspectives, participate in live Q&A sessions, and gain key learnings that will refresh and reshape the way you work.
This will be a virtual event.
Registered Attendee Benefit - The first 200 registrants will be provided a coupon code for an in-person networking event on Thursday, August 18 at the NCSU McKimmon Center.
PDU Breakdown
A total of eight (8) PDUs will be provided for the event. By attending the day of the event, your PDUs will be submitted automatically.
Keynote Sessions
Anthony Reed, CPA, PMP
Keynote Title: Running to Leadership
Dr. Harold Kerzner
Keynote Title: The Future of Project Management
Breakout Sessions
Title: How Unconscious Bias Impacts Agile Values and Principles in Teams
Presenters: Kyle Morton and Ebony Burroughs

Title: Tailoring Approaches: Agile Project Management
Presenter: Mike Griffith
Title: Emotional Intelligence
Presenter: Keith Wilson
Title: Risk Management for Project/Programs
Presenter: Ed Lively
Title: Lessons Learned from Case Studies in Project Manager Burnout
Presenter: Ruth Pearce
Title: Managing Difficult People
Presenter: Anthony Reed