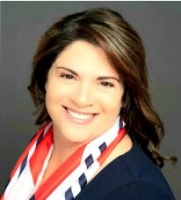 Abstract:
With over 200,000 veterans transitioning from the military each year, there is a candidate pool of
candidates that are not only highly skilled, but very much sought after. Join me as I share the
positive short-term & long-term reasons why tapping into this valuable resource will not only
impact your company culture but also your bottom line.

Objectives:
Top 6 reasons for hiring a veteran

Financial and Organizational Benefit

Available resources to companies for tax credits & free training

Learn more about The AVA Group and the work we do to support veterans around the




country
About the Presenter:
Erin Emery, Vice President & Co-Founder has more than 20 years of exemplary client service, and full life cycle human resources experience in support of the defense consulting industry. She combines her ability to critically think, provide leadership and find creative solutions to assist her clients in filling critical positions. She works with executive management to provide a strategic and integrated approach gain a competitive advantage.
Ms. Emery is the current Director of Human Resources for the small service disabled veteran owned consulting firm Air Combat Effectiveness (ACE) Consulting Group, LLC. Headquartered in Lexington Park, MD, Realtor with Century 21 New Millennium based in White Plains, MD and Owner and Creative Director of August May Designs.