Leadership CoP: Leading from Your Strengths - making your communication hit the mark!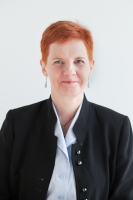 About the Speaker:
Ruth Pearce is President of ALLE LLC, an author, speaker, coach and a practicing project manager. Her experience includes financial services, state government, and non-profits. In 2018, her book Be a Project Motivator: Unlock the Secrets of Strengths-Based Project Management was published by Berrett-Koehler. Ruth is a regular presenter in webinars and workshops and presents at conferences nationally and internationally on the subjects of social intelligence for project managers and using character strengths to build engaged, empowered teams. Her top strengths are Appreciation, Bravery, Curiosity, Fairness and Gratitude. Find out more about Ruth's work at www.projectmotivator.com.
Abstract:
Project managers spend 90% of their time communicating1. And, as Project Management 2.0 takes hold, we will be less project managers and more project leaders.2 How do we make that transition? What if leadership does not feel like a top strength for us? What if our communication is missing the mark in terms of tone, content, level of detail, and possibly timing? Research by ALLE LLC shows that project managers are lower on average in the strengths of Social Intelligence and Perspective. Leadership is a strength that tends to rank somewhere in the middle. But being lower in a strength does not mean we cannot engage it. And we have a toolbox of other strengths to leverage instead.
In this session attendees will learn about the statistics on project manager strengths – and weaknesses – the science of character strengths and how it boosts social intelligence, and leadership, and practical ways to engage your strengths within teams and with stakeholders to improve communication and be an effective leader
Learning objectives:
Understand character strengths rankings and what they tell us
Discover how project managers can become leaders through strengths awareness.
Analyze your own profile to see how you can be a great leader
Apply character strengths to self and others
Event Details
| | |
| --- | --- |
| Event Date | 11-14-2019 5:30 pm |
| Event End Date | 11-14-2019 7:00 pm |
| Registration Start Date | 07-11-2019 |
| Registered | 63 |
| Cut off date | 11-13-2019 10:00 pm |
| Individual Price | Free |
| No. of Leadership PDUs | 1 |
| Location | Lenovo - RTP |