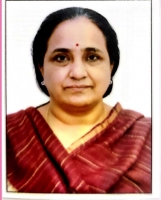 Abstract of the talk by Ms. Rama Mathew, MZIII Chief Commissioner
The lockdown in India and in the rest of the world disrupted global trade overnight, threw supply chains into disarray, and posed a serious shortage risk of everything, including important items for healthcare. There was an urgent need to facilitate cross-border trade of vital goods and services to wade off a systemic collapse Mumbai Customs, or specifically Mumbai Zone III (MZIII), embraced the lead role to expedite cargo movement. Chief Commissioner Rama Mathew led from the front.
Her extraordinary leadership, presence, and quick thinking made a decisive impact. The global pandemic is bringing leadership issues to the surface, Ms. Rama Mathews rose to the occasion and is exalted as a lion-hearted woman by the media and the masses.
She exemplified When the going gets tough, the tough get going